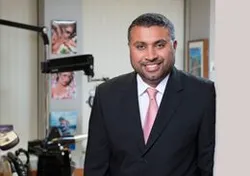 Dear Patient:
I am truly honored and forever indebted that Dr. Bello has chosen me to continue his life's work. Dr. Bello has touched many lives over the years and rest assured, I will continue the same excellence and compassionate care patients have grown to expect from Chicagoland Eye Consultants. Patients will continue to see all the familiar faces they have grown accustomed to and experience the same level of quality they have come to expect. I bring with me over ten years of experience and thousands of high-quality surgical procedures. I am excited to announce that I will employ the latest techniques in cataract surgery , LASIK, corneal transplant surgery , glaucoma lasers and testing , and cosmetic procedures . Furthermore, to better allow communication amongst doctors, we will upgrade to electronic medical records.
With God's good graces, I am able to do what I love the most, which is helping people with their vision, and giving them a better quality of life. Over the years, my patients have become like family to me. I love hearing stories about their lives, their children, and grandchildren. In turn, my patients tend to treat me like their family. Dr. Bello and I share similar philosophies and bedside manners; with our patient's continued support, and our extraordinary staff, Chicagoland Eye Consultants will continue to be the leader in eye care for generations to come.
I thank you for embracing me as your new Chicago Ophthalmologist ; I look forward to treating you and your family's eyes for many years to come.
Sincerely,
Jasmeet Dhaliwal, M.D.