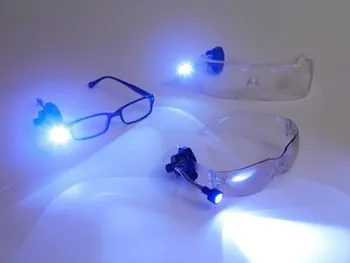 The Eyeglass Light is the newest revolution in hands-free directional lighting. Simple, small, lightweight and flexible, this unique light attaches to most types of eyewear on either the left or the right side. Glasses wearers can now have a portable light source to shed a little light wherever a little light is needed.
Weighing only .7 ounce, The Eyeglass Light will easily clip on to any size frames without adding extra weight. The compact design allows The Eyeglass Light to fit easily into a purse or a pocket for accessibility and complete portability.
The Eyeglass Light LED lamp projects bright, uniform light wherever you need it, and with long-lasting replaceable lithium batteries included, you can always have handy light when you need it.
Typical clip-on reading lights can be cumbersome and awkward to use. Whether you are traveling, at home, in bed, in a restaurant or in your car, The Eyeglass Light allows you to focus on what you are reading instead of how you are reading.
Detailed handiwork has never been easier than with The Eyeglass Light. Whether you are taking on a home repair project, quilting, crocheting, knitting, model-building, painting, drawing, coin and stamp collecting, scrapbooking, sewing or working with beads and jewelry, you will find your tools and your crafts with the extra bright convenience of The Eyeglass Light.
From the computer to the drafting table, The Eyeglass Light will help illuminate your work projects and give your tired eyes the extra light they need to get the job done.
Night-time outdoor activities, such as fishing, walking, running and camping are safer and easier with The Eyeglass Light to shine a bright hands-free light on you and your path.
The Eyeglass Light Frequently Asked Questions
How does The Eyeglass Light work?
First, Open clamp and place on Eyeglass Arm, either right side or left side, then snap close.
Press switch button in to turn-on light. Press switch in again to turn light off.
Do I need to ever change the LED light bulb?
No. The LED light bulb never has to be replaced.
How do I remove the batteries?
Slide the battery compartment cover off and replace with 2 x 2032 Lithium Batteries.